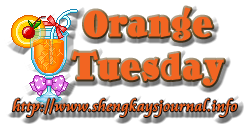 My Mama Shengkay is hosting her own color meme and I support her 100%. In behalf of my Mama we would like to thank all mommies and friends who join her. As I can see it its a success! I'm sure Mama is very happy with that.
To support her I also had my entry. As mention in her
Shengkay's Journal
blog orange is not our favorate color but we have plnety of it in our house. See my beddings?.Mama actually bought thiswhen she was not sure of my gender and to play safe she just bought this in this color so that when I happen to be a boy its still okay.
In this photo I was only 11days old here and most of my time I just sleep.
Don't I look cute here?
how about this one? :)
Again, thanks for playing my Mama's Orange Tuesdays color meme. Hope to see you next week. Have a nice day!