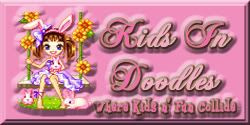 Hello everyone! how was your day? me just fine. Yesterday Mama Shengkay and I go to my well baby clinic at Riveside for my catch up HIB immunization. I should have my HIB injection last May 10 but was postpone due to financial constraint and that time I had "apok-apok" its like a chicken pox but worse than chicken pox-seems like skin infection and it's gross to look at. The money intented for my HIB was use for my medicine.
Thank you Papa Jesus because finally I had my HIB injection and my "apok-apok" healed already. For now Mama is saving for my next HIB immunization which will be on July 6.
..by the way I am joining Kuya Pat and Kuya Ken Kids in Doodles..hope you too can join KID. It's still open till tomorrow. Just click badge in the middle of my photo.